Circus Natures' Three Rings of Play
Circus Nature Performances and Activities to engage the audience in theatrical play. Each of Rings of Play are available either individually or in combination.

Ring One: Make Believe Theatre — Skits & Puppets, & Wizardly Storytelling

Ring Two: Circus Skills Extravaganza — We show how - Kids show off new Circus Skills

Ring Three: Peaceful Pandemonium — Enjoy active play in a Kind and Rowdy way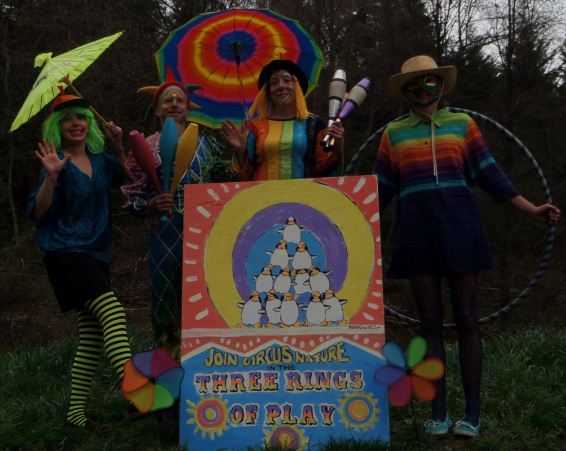 Materials and Play Areas Outline


Ring One: Make Believe Theater — Costumes and props for skits and games. Puppet shows, Camp songs, Bubbles & Animal Balloons.

Ring Two: Circus Skills Extravaganza — Toys for all - juggling balls and pins, devil-sticks, hula hoops, jump ropes, large rubber balls, twirling ribbons, batons, poi spinners, stilts, pogo sticks, drums, bells and whistles.
Ring Three: Peaceful Pandemonium -- Ring the Clown, Human Pinball, Parachute play, Dragon chase, Piñata swing from 6' unicycle, red light - clown light, water-balloon toss, tug of peace, trust games, balancing tricks, mats and springboards.


We would happily consider adapting this proposal to the needs of your event.

Yours in Peace & Play,
A. O' Kay & Nani Nature


Objectives:

1. Lots of Fun for All Who Play

2. A Joyous Spectacle as Participants and Performers Play

3. Lead Cooperative Play to Integrate Performance and Games

4. Encourage People of Diverse Backgrounds to Play Together

5. Facilitate Personal Skills and Social Growth.

The Three Rings of Play engage the audience in a variety of performances and kinds of play.
People arriving can either watch the activities and performances or join in the play.

As groups complete one Ring of Play, the next Ring of Play is ready to involve them.

Each of the Rings of Play will have one or two performer/coordinators to encourage and lead play as well as provide security for participants and equipment. Each Ring has performance, games, and "free-play" in sequence.