Circus Nature
​ Wizards of Play
Performances for All Ages!!
We will bring a show to your home, school, or town.
​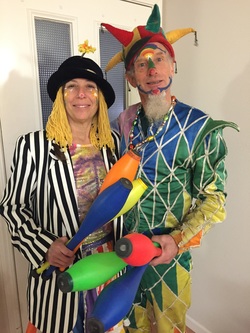 A variety of acts to amaze, creative play becomes a craze. We perform with Unicycles and Juggle Pins, Torches, Parachutes, and make balloon creations too. Events become Parties — Your Party will be an event.
For schools and Camps we teach circus arts and interpretive games to turn lesson plans to cooperative play. Natural Sciences are a specialty.

A.O'Kay and Nani Nature

Circus Nature 2017 Events scheduled so far:
Humboldt Juggling Festival Public Show: March 18, 2017
Hoopa Fish Fair: April 28,2017
No one Should Go Hungry Benefit: Douglas City- May 13, 2017
Willow Creek Fire Safety Day: Veterans Park- May 20,2017
41st Summer Arts and Music Festival-Benbow-Mateel Community Center- June 3rd & 4th, 2017
Reggae on The River-French's Camp-Mateel Community Center- August 4th-7th, 2017
Trinity Tribal Gathering-Junction City-September 1-3, 2017
Taste Of Willow Creek-Bigfoot Golf Course-September 30, 2017
​

---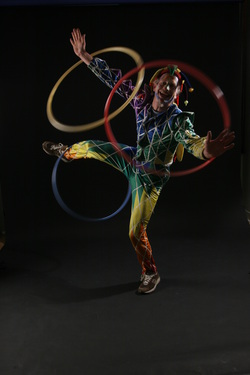 Spinning Hoops
For Birthday Parties you are sure to enjoy a variety of fun and games including 6ft. unicycle entrance with rainbow Umbrellas, Juggling of various objects, Unicycling, Interactive Games like red light clown light, Animal Balloons, Torches, Hoola Hoops, Parachutes, Balls, and a Dragon or two.
The Birthday Star can lead some of the performance or choose someone else to join in.
Whether you hire one clown or two all ages will be amazed and have fun celebrating with Circus Nature.


---
A'O.Kay performing on his six foot unicycle!
Circus Nature Fun and Games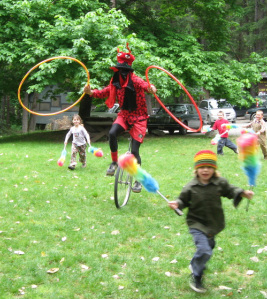 Circus Nature founders Denise and Bede SteenblockSmith have enjoyed decades of learning natures cycles as they: restore the forest upon their homestead, raise three children to become vibrant young adults, provide professional services, lead educational programs and recreational activities, all of which contributed to the development of: Circus Nature Performances and Guided Transformative Play - practices which engage participants of all ages in beneficial circus activities which demonstrate the laws and cycles of nature. Innovative performance and play which engages the audience to join the act by learning performance skills and acting out the concepts. We create an amusing and informative show for all ages a

Contact us today!
(707) 499-5628
circusnature@circusnature.com
aokay@aokayclown.com



---